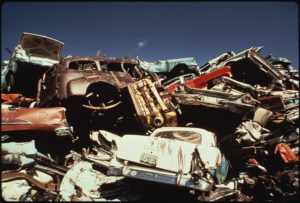 Technosphere. Who knew there was a term for all the junk humans have made? Every week I dutifully haul the recycle bins to the curb and place them next to my trash can. I wonder how much is actually recycled and how much trash I contribute to the landfill. Do my castoffs and disposables add up to inches? Feet?
A paper published in The Anthropocene Review  this week divides "contributions" to the technosphere into categories: urban, rural, subterranean, marine and aerial. Although I am contributing carbon dioxide to the atmosphere, my weekly trek to the street probably contributes more depth to the urban sphere than any of the others: cords from out of date technology, jeans with holes in the knees, the Styrofoam box with restaurant leftovers I never ate, empty Bic pens, irreparable household items…
I decided to figure out how much of the sphere I'm responsible for. According to the Review, humans have accumulated an estimated 30 trillion tons of "stuff" – enough to fit over 100 pounds worth over every square meter of the planet's surface. I went to Worldometers to learn what the world population is currently (7,475,632,700 when I clicked on), thinking I would divide the 30 trillion tons by that figure. Trouble is, the meter is racing. I thought about all those babies being born, requiring how many disposable diapers, all growing up to fill their own recycle bins and trash cans.
It's scary thinking about how humans of the Recent Epoch (Holocene, 11,700 YA to present) are impacting the planet with our innovative creations. The technosphere, a relatively new phenomenon in geological time is changing the planet. I fear the consequences, yet I continue to assist its evolution.  "The technosphere is a major new phenomenon of this planet – and one that is evolving extraordinarily rapidly." -Professor Mark Williams, University of Leicester.