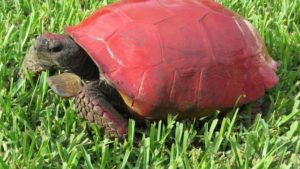 In a recent Facebook post, the Florida Fish and Wildlife Conservation Commission warned that painting gopher tortoises is illegal. At first glance this prank seems harmless, but the post warns that painting the shells can severely compromise their health. Humans apply sunscreen to block out harmful UV rays, but we do allow, and encourage some exposure to the nutrients provided by the sun. Paint on a turtle's shell prevents such absorption.
The paint also contains harmful chemicals which can be absorbed into the tortoise's bloodstream. While a tortoise's carapace provides some protection, it's natural coloration helps to camouflage and protect the animal from predators.
Gopher tortoises are listed as a threatened species.
It is against the law to kill, harass or destroy gopher tortoises, their eggs or burrows. If you suspect a wildlife law violation, report it to the FWC's Wildlife Alert Reward Program at 888-404-FWCC, 24-hours a day or online. You could be eligible for a reward if your information leads to an arrest.